Angry Bird Woodstock T-Shirt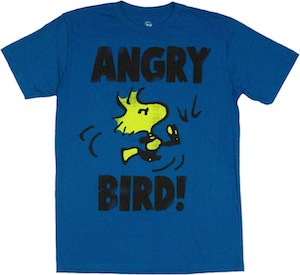 Snoopy's little bird friend Woodstock can be pretty angry and that makes him the perfect angry bird.
And for those Peanuts fan that would like to have an angry birds t-shirt that fits them better they designed this one with Woodstock on it.
The shirt is dark blue and has a little yellow Woodstock kicking around and the words "Angry Bird!" on it.
You can get this t-shirt in a wide range of adult sizes so that it fits you perfectly.
Come checkout this Peanuts Angry Bird Woodstock T-Shirt.