Baby Optimus Prime T-Shirt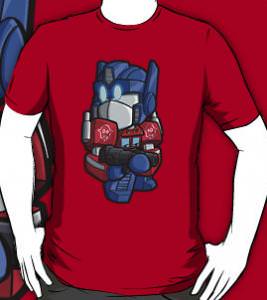 Do you ever wonder what the leader of the Autobots Optimus Prime would have looked like as a baby.
Well now you can see the cute little baby Optimus Prime on the front of this t-shirt, find all the cool details of Optimus Prime like his red and blue colors, battle gun on his arm and the helmet.
Made from a very comfortable and durable material you can get this Transformers Optimus Prime t-shirt in many colors and sizes, also check out all the different styles of shirts and hoodies to get this baby Prime printed on.
Try on the Transformers Baby Optimus Prime T-Shirt.