Backyardigans Big Book Of Backyard Adventures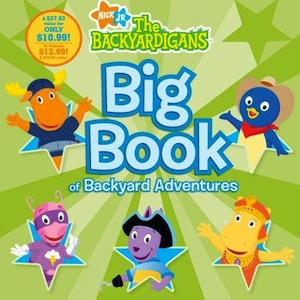 If you kids are in to the Backyardigans then you will make them really happy with this book.
This 192 page book tells 7 of the Backyardigans adventures just like you have seen them on TV.
You kids love these stories and can tell you about them and that makes it the ideal book for them.
In The Backyardigans big book of backyard adventures you will find the following stories.
Race to the Tower of Power
Pirate Treasure
Secret Agents
Mission to Mars
Say "Please!"
The Secret of Snow
The Polka Palace Party
With all these fun stories you kid will have hours and hours of fun. And of course this book has amazing illustrations for great interaction with your kid.
Come have a look inside this Backyardigans Big Book Of Backyard Adventures.