Batman 3D Adult Slippers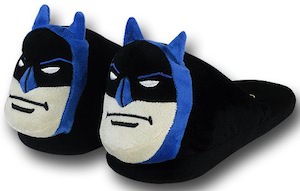 After a long day at work doing all your superhero jobs you come home and you want some nice and comfortable footwear.
Now Batman has you back because these Batman slippers will keep you feet nice and warm and are so comfortable that you even want to wear them in bed.
And they are not just any kind of Batman slippers, these slippers have the face of Batman on the front in 3D so no flat image no the real superhero on your slippers.
These slippers come in adult sizes ranging from 8 going all the way to 13.
Time to shop for a lovedone or yourself for these amazing Batman Face Slippers.