Batman Kids Watch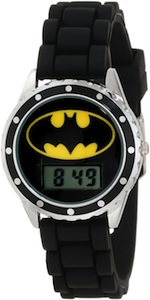 Kids will love this watch as it looks like a real grown up watch and it's a Batman watch to.
This watch has nice black rubber band and a silver watch with a dark clock face with a big Batman logo and below that the time.
And with a watch like this you kid can learn to read time and be home on time to.
So time to learn to read the clock with this Batman Watch.