Batman Logo Cookie Cutter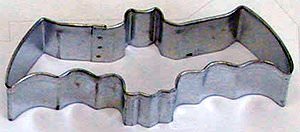 Bake some amazing superhero cookies with this Batman cookie cutter.
This cookie cutter is shaped as Batman's wings and that means that you can bake some Batman logo cookies.
The cookie cutter is made from metal and is not dishwasher save but is great for cutting other foods as well.
Now your kids can take Batman sandwiches to school.
So suprise the kids with Batman cookies made with the Batman Cookie Cutter.