Batman Reversible Backpack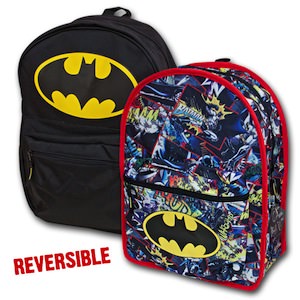 We all know that a backpack like clothes gets boring if you have the same on everyday.
And that is why this Batman backpack is so great.
Because this backpack is black on one side with a big Batman logo and if you turn it inside out you find a new print with picture from the Batman cartoons and again a big Batman logo.
So basicly you get two backpacks for the price of one.
And this backpack measures 17 x 13 x 4.5 inches and that makes it great for school and play.
Come and have a closer look at the details of this Reversible Batman Backpack.