Beavis And Butt-Head Mighty Wallet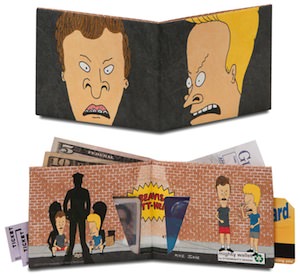 Do you want a wallet that amazing in looks and even more amazing in use.
This is a mighty wallet and that means that it is amazing in ways you can use it.
At first it seems like a small wallet but when you start filling it with money, cards, notes and more it seems to grow.
The wallet is made from a single sheet of Tyvek a plastic fiber that is super strong. And because it is made from plastic it is easy to clean.
And besides being an amzing strong wallet this wallet of course has picture of Beavis and his friend Butt-Head on it on the inside and the outside.
Come have a closer look at this Beavis And Butt-Head Wallet.