Beavis And Butt-Head Stamping On Mouse Mousepad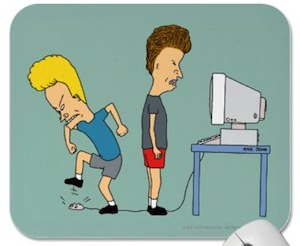 There they are the MTV stars Beavis and Butt-Head.
And this time they are trying to get on the internet.
Butt-Head is staring at the computer screen while Beavis is getting a go with the mouse.
Ok maybe stomping on the mouse does not help and I guess that they don't need a mousepad.
But maybe you do and this scene with Beavis and Butt-Head can be found on this quality mousepad with a non slip back.
Come and have a closer look at this Beavis And Butt-Head Stomping On Mouse Mousepad.