Betty Boop 17 Inch Plush Doll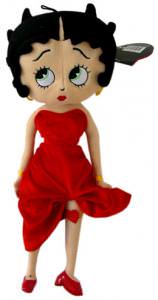 Betty Boop fans must have everything Boop, so have a look at this classic Betty Boop plush doll.
Find Betty Boop in her signature red evening dress with red shoes, red lipstick and of course you will also see the red heart garder aroung her leg all in very good detail.
This Betty Boop plush stands 17 inches tall and is really soft yet very durable to last a long time, use this Betty Boop as a snuggle companion or set her up on a shelf as part of your awesome Boop collection.
Take a better and closer look at the Betty Boop 17 Inch Plush Doll.