Betty Boop Zebra Print Handbag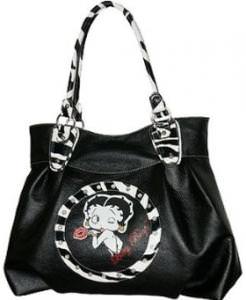 Fashon icon, strong will and very sexy!
Betty Boop has captured many hearts along the way, if yours is one of them then you will not be able to resist a cool handbag like this one.
Features Betty Boop on the front blowing a floating kiss with a zebra print circle surrounding her, this zebra print circle also has rhinestones set uniformly for a very sleek and sassy bling.
The strap also has the zebra print which really sets this handbag off, the back has a zipper pocket and inside you can find very useful slip pockets and zipper pockets.
Measures 18″ x 15″ x 3″ and the strap from top of bag to top of strap measures 9.5 inches.
Find this Betty Boop Zebra Print Handbag.