Beyond District 12 – The Stars of The Hunger Games book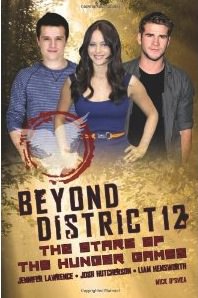 Hunger Games fans, this is your insider's guide to the actors who scored the three starring roles in the film adaptation. Author Mike O'Shea not only goes beyond District 12 – he goes beyond the tabloids and celebrity websites to feed your curiosity about the private lives and early careers of Jennifer Lawrence (Katniss Everdeen), Josh Hutcherson (Peeta Mellark), and Liam Hemsworth (Gale Hawthorne).
There's a full-size colour photo on almost every other page, so you can admire these young movie stars to your heart's content.  Impress your friends with cool things they didn't know about Jennifer, Josh, and Liam – handy for when you re-watch the first movie or see the second one, Catching Fire, in November 2013. Bet you can't wait that long! Get Beyond District 12
 to keep you company until you can see Katniss, Peeta, and Gale in action again.
Check out other The Hunger Games Merchandise at THLOG.COM: