Captain America Braclet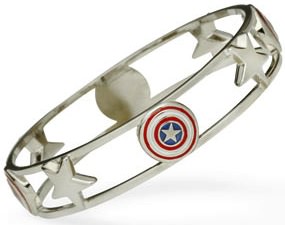 If Captain America is your superhero then you are gone love this bracelet.
This nickle free bracelet looks like two bangle bracelets brought together by stars and the Captain America shield.
And this all makes it a nice and open looking bracelet with the symbols of you hero.
The Captain America bracelet has a diameter of 7.85″ making it a one size fits most adults kind of bracelet.
And the bangle bracelet is made from Imitation rhodium (nickel-free tin alloy).
So if you like jewelry inspired by your hero then come see this Captain America Bracelet.