Chewbacca Messenger Bag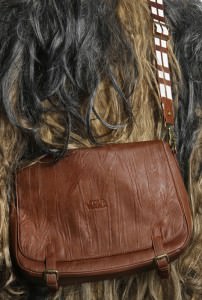 Do you have very important things to tote around?
Why not use what the legandary Wookie Chewbacca used and trusted.
This is an awsome messenger bag that looks just like the one Chewbacca from Star Wars uses, a brown faux leather with the "Star Wars" logo embossed on the outside and the strap has a cool white and brown square design.
Inside the messenger bag it is lined with fabric and has two sections, it can accommodate your favorite tablet up to 11 inches.  With a back zipper pocket that measures 8 inches wide x 5 inches deep. Also there is 4 inside pockets perfect for pens, wallets or cell phones.
The Chewie messenger bag measures 15 inches wide x 10 inches tall and has magnet clasps to fasten the main compartment and the front flap.
Pick up this Star Wars Chewbacca Messenger Bag.