Clawdeen Wolf Sweet 1600 Doll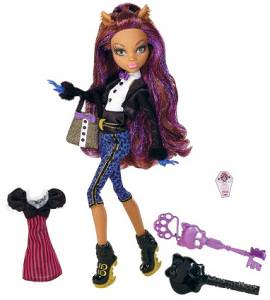 Howl at the moon!!!
Just like Clawdeen Wolf from the cool series Monster High, she goes a bit "freaky" when in the presence of the full moon, or something resembling it, such as a spotlight.
This is a doll of Clawdeen Wolf from the Monster High series Sweet 1600, find Clawdeen with a cool pink and black dress aswell as another awesome outfit of leopard print short pants, dress shirt with bow and a sleek black jacket.
Other accessories include a skeleton key invite, birthday present and of course a Monster High hair brush, add Clawdeen Wolf to your scary cute collection of Monster High sweet 1600 dolls.
Collect this Monster High Clawdeen Wolf Sweet 1600 Doll.