Dalek Obey T-Shirt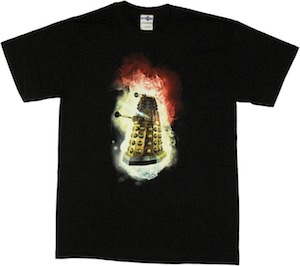 We all know that the Doctor is not real fond of the Dalek's.
And still this t-shirt has a Dalek on the front and this one is surounded by flames. And there is more, on the back of this t-shirt it says in big letters "You Will Obey" and that can't be a good thing.
The t-shirt is black and the print is a distressed print and Doctor Who probably wants to wipe it off completely.
It is made out of 100% cotton and comes in a wide range of sizes.
Doctor Who fans come and check out this Doctor Who Dalek You Will Obey T-Shirt.
Check out other Doctor Who Merchandise at THLOG.COM: