Disney Frankenweenie Beanie Hat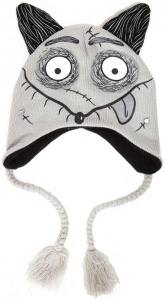 Sparky is ready to travel and help keep you warm.
This is a great beanie hat that features the face of Sparky, the star of the Disney / Tim Burton animated movie Frankenweenie.
Find all of the cool characteristic features of Sparky, his friendly face with tongue sticking out, padded black ears at the top and of course find all of his stitches.
Made to be very durable and super warm with an extra fleece lining on the inside and tie strings to lock in all of the heat.
Try on your Disney Frankenweenie Peruvian Beanie Hat.