Disney Princess Shoes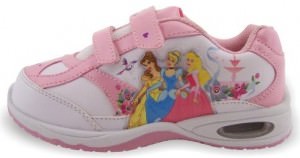 Even a Princess has a good pair of running shoes, so all you little Princesses check out this pair of Disney Princess running shoes. These shoes feature an image of three of your favorite Disney Princesses, Cinderella, Belle and Sleeping Beauty and with cool pink heart accents. The best part of these Disney Princess running shoes is every step the heel lights up so your little Princess will just love wearing these, and the velcro straps make it easy to put on and off.
Find your Disney Princess Shoes.