Doctor Who Dimensionally Transcendental T-Shirt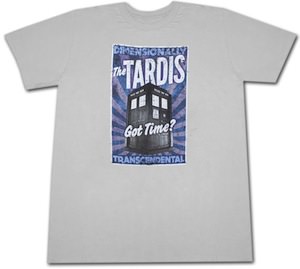 Doctor Who fans know all about dimensionally transcendental as this is what the Tardis offers.
And that is why the t-shirt says "dimensionally transcendental" and in the middle it shows a picture of the Tardis and the words "The Tadis Got Time?".
If you don't know what dimensionally transcendental means then let me tell it in a simple way. The Tardis is bigger on the inside as on the outside.
This Tardis t-shirt comes in a range of adult sizes and is made of 100% cotton.
So if you need a Doctor Who t-shirt then come see this Doctor Who Tardis Dimensionally Transcendental T-Shirt.
Check out other Doctor Who Merchandise at THLOG.COM: