Doctor Who Tardis Case For The Samsung Galaxy S III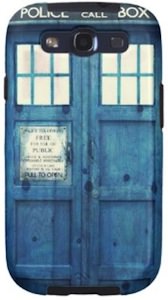 Is that a picture of a British police phone box?
It is kind of because in reality it is a Tardis case from the Doctor and this case is there to protect the Samsung Galaxy S III phone.
The case is made by Case-Mate and will protect your phone from dents and scratches and makes it even look better then it already is.
The Doctor Who case is made from plastic with a rubber lining to keep your Samsung phone in new condition.
Unfortunitly there will not be more room inside the Tardis case.
So Doctor Who fans come and check out this Tardis Phone Case For The Samsung Galaxy S III.
Check out other Doctor Who Merchandise at THLOG.COM: