Doctor Who Tardis Glass Christmas Ornament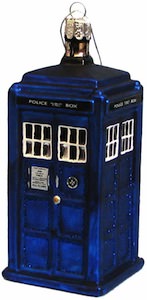 If you are looking for a police box for in your Christmas tree then you are in luck because the Doctor has got a bunch of glass ornaments made that looks exactly like his blue Tardis.
These Tardis Christmas ornaments are made out of glass and have amazing details.
A true Doctor Who fan can just not live without a ornament like this.
These ornaments are made by Kurt Adler and are about 4 1/4 inch high.
So if you want the Doctor to be part of you holiday spiriti then get your Doctor Who Tardis Christmas Ornament.
Check out other Doctor Who Merchandise at THLOG.COM: