Dora The Explorer Cookies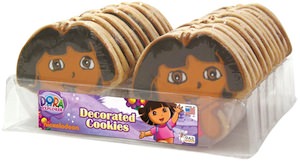 A cookie a day keeps the doctor away that is what they saying should be if you believe kids.
And now they will try even harder to get a cookie.
This is a box of 24 Dora cookies and they are great for parties and play dates.
Each cookie is wrapped individually so that kids can even take them home from your party.
And these are shortbread cookies with sweet icing and the cookies are kosher and made in the USA.
So if you need Dora cookies then come check out these Dora The Explorer Shortbread Cookies.