Elf Santa is Coming T-Shirt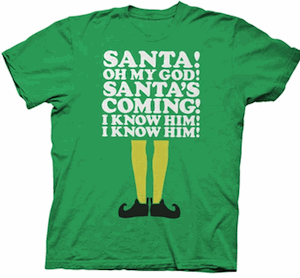 If you have seen the fun Christmas movie Elf then you know how excited Buddy the Elf gets when he hears that Santa Claus is coming.
A few things he screams out is printed on this t-shirt and those words are "Santa! Oh My God Santa's Coming! I Know him! I Know him" and below the text you see Buddy's legs with his funny Elf shoes.
This is the perfect t-shirt for Christmas and of course to remeber this supper fun Christmas movie.
Time to dress for Christmas lets wear this Elf Santa's Coming T-Shirt.