Elmo Pull String Pinata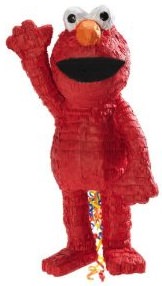 A kids birthday party becomes more fun when you have a piñata.
This pinata is shaped like a giant Elmo.
It's 21″ tall and all 3D.
There is no need to hit the Elmo pinata as it is a pull sting one where the kids all pull a string and on of them opens the door to the candy (not included).
Start planning the party and start by ordering the Sesame Street Elmo Pinata.