Frankenweenie Electrifying T-Shirt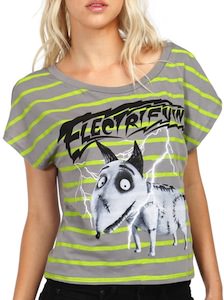 This Frankenweenie t-shirt is the one you just want to have.
It is made for women and comes in sizes x-small to x-large and this are junior sizes.
The shirt is grey in front and back but on the front it also has fun green stripes and the word Electryfying and of course the now famous dog Sparky the dog that came back to life.
The fit of this shirt makes it fun and easy to use in multiple settings from work, school and home at the couch.
Come and see this Frankenweenie Sparky Electrifying T-Shirt.