Frankenweenie Love At First Spark T-Shirt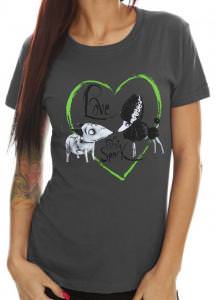 AHHH, Love at first sight …. or for these two Love At First Spark!
This is a t-shirt that features two of the cool main character dogs from the fun Disney / Tim Burton animated movie Frankenweenie.
Find Sparky and Persephone creeping in to each other sniffing and almost about to kiss with a nice bright green heart in the background and the saying "Love at first Spark".
This is a 100% cotton t-shirt that is available in girls sizes X-Small to X-Large, it will be very comfortable and extremely durable.
Check out the Disney Frankenweenie Love At First Spark Girls T-Shirt.
SORRY BUT THIS ITEM IS NOT LONGER AVAILABLE.