Fred Flintstone Big Daddy Boxers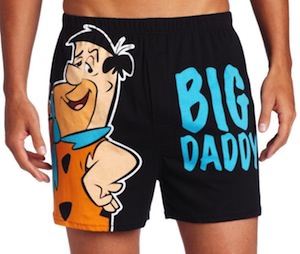 If you are a fan of the Flintstones then there are only two things you can do and that is going commando or wearing these Fred Flintstone boxers.
And for sure these boxer shorts are the best way to go.
The shorts are pretty dark colored but have a colorfull image of Fred Flintstone on one side and the other side says "Big Daddy" and the rear is all blank.
The shorts are 100% cotton and can be washed in the washing machine.
You can get the Flintstones boxers in sizes Small – X-Large.
So get dressed in these fun Fred Flintstones Big Daddy Boxer Shorts.