Garfield 2013 Wall Calendar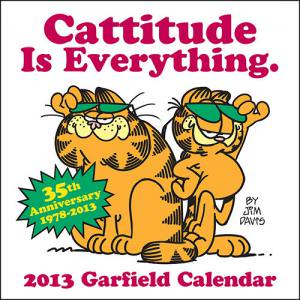 The classic series of Garfield is here to help you get through the year 2013.
This is a super fun Garfield wall calendar by Jim Davis, a special 35th anniversary (1978-2013) that will be adored by the true Garfield fan, find awesom Jim davis hand sketched prints of the famous comic strip series on each page.
Titled "Cattitude is everything." this 2013 Garfield calendar has a classic one liner like "I just finished a 14 – day diet, and all I lost was 2 weeks." and the original art work comic strip with each quip.
A standard wall calendar size that measures: Size Closed: 12.0 " x  12.0 " Size Opened: 24.0 " x  12.0 " and has stapled binding,
Have a look at the Garfield 35th Anniversary 2013 Wall Calendar.