Ghostbusters License Plate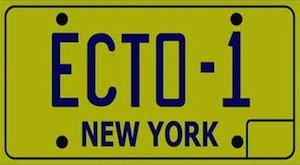 Do you remember what license plate the Ghostbusters had on their first car?
Yes it was "ECTO – 1″ and now you can get this movie replica license plate that says exactly that and of course it also says New York on it to like a real license plate.
A yellow plate like this can ofcourse not be used as a replacement of your current plate and has only decoritive value.
It comes in a window display box so that you can keep it in mint condition.
Ghostbuster collectors come check out this Ghostbusters License Plate.