Ghostbusters Peter Venkman T-Shirt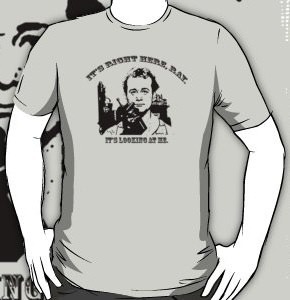 This t-shirt shows a classic scene from the Ghostbusters movie.
You see a picture of Dr. Peter Venkman (Bill Murray) talking to Ray saying "It's right here Ray. It's looking at me".
We all remember this scene even after so many years.
And now you can get the  t-shirt with it all on it.
This Ghostbusters t-shirt comes in a range of sizes and colors and even a men or women's version.
So if you like classics then come get your Ghostbusters Peter Venkman It's Right Here T-Shirt.