Green Lantern Logo Mug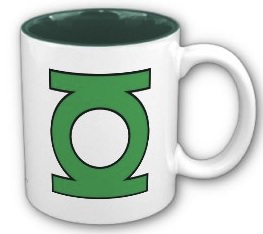 Green Lantern need coffee to and how does he drink his coffee?
Simple out of a Green Lantern coffee mug of course. Somedays he uses this one because it is green on the inside and has his logo on it.
And as you may expect from a quality product the logo is printed on both sides of the mug so that you and your friends can see it at the same time.
Other things you may want to know about this mug is that it is dishwasher and microwave save so you can enjoy it the way you want.
Go have a better look at this Green Lantern Logo Coffee Mug.