Harry Potter Earrings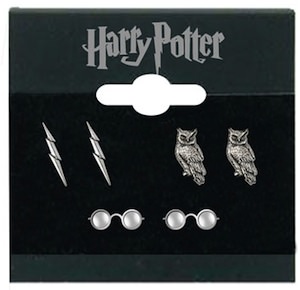 You are in need of some new earrings but what do you buy?
If you are a Harry Potter fan  then you should be thinking of this set.
This set consist of 3 different Harry Potter themed earrings.
One set is an owl because that is how a real wizard gets it's mail.
The second set are glasses yes you can have Harry Potter glasses earrings. You need to be a real Harry Potter fan to dare to wear geeky glasses in your ears.
And finally there is the lightning bolts  that looks exactly like the scare on Harry's forehead. This earring is interesting and you can always use them if you decide to become a punk or something like that.
The best thing of this all is that all 3 pairs of earrings are in one set so you can have 3 pairs of new earrings for the price of one.
Why wait you need to get ready to show the world you love of Harry Potter and what better way then with these Harry Potter Earrings.
Check out other Harry Potter Merchandise at THLOG.COM: