Harry Potter Gryffindor Socks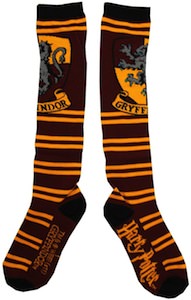 If you always wonderd what kind of socks Harry Potter wears then you are in luck because we found them.
These Gryffindor socks are the socks that Harry and most of the other Gryffindor members wear.
You can see that these socks are a dark red with yelow stripes and have the Gryffindor crest on the front. On the bttom of the socks you find the Harry Potter logo.
And these socks are knee high so they keep your legs nice and warm when weather gets cold.
So if you need warm socks for everyday use or you Halloween costume then check out these Harry Potter Knee High Gryffindor Socks.
Check out other Harry Potter Merchandise at THLOG.COM: