Harry Potter Professor Snape T-Shirt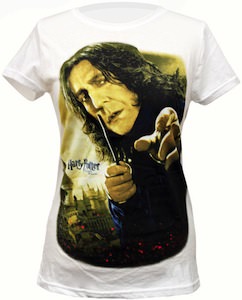 There is Professor Snape like we all know him from the Harry Potter movies.
As you can see Severus Snape is pointing at something while holding his wand ready to use  and behind him you can see Hogwarts castle and the Harry Potter logo. And this all is printed on a white t-shirt for women.
A true Harry Potter fan of course wants to honour Snape and what better way to do so then by wearing this t-shirt.
Come and find out all the details of this Harry Potter Severus Snape T-Shirt.
Check out other Harry Potter Merchandise at THLOG.COM: