Hawkeye Mousepad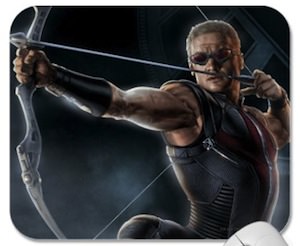 If you want a special superhero on your desk then have a look at this mousepad.
On this mousepad you see Hawkeye having his bow ready for action and this all agains a dark sky background.
A mousepad like this will really make you work behind your computer a lot more fun because who doesn't want a hero from The Avengers movies on his desk.
This quality mousepad has a non slip back so that it stays in place what ever you do.
Come have a closer look at this Marvel Hawkeye Mousepad.