Hello Kitty Laptop Decal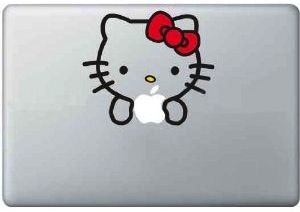 OK your Mac may look amazing but they all look the same.
But now you laptop can look special.
This laptop decal is of Hello Kitty while she is holding an Apple or actually holding your Apple logo from your laptop.
And this decal is specially made for your laptop so just give them the details of your computer and you will get the right size and Hello Kitty will be enjoying living on your laptop.
Come and check out all the details of this Hello Kitty Laptop Decal.