Iron Man Tank Top Dress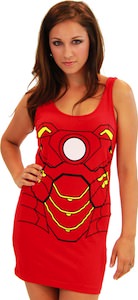 Do you want to be the new Tony Stark?
If so then this Iron Man dress will make you look like a much cuter Tony.
This is a tank top junior style dress that shows all the details from the Iron Man costume and of course it is red just like the suit that Iron Man wears.
This dress comes in a wide range of junior sizes fiting girls and adults.
And this dress can easily be conferted in to a t-shirt by just folding the bottom inside.
So be Iron Man at work or at a party by just wearing this Iron Man Tank Top Dress.