IT Crowd Cast iPhone / iPod Case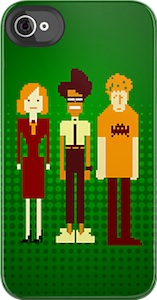 Your iPhone or iPod Touch can use some special protecting from an IT department that is different in so many ways.
This case is based on the TV series IT Crowd and shows Jen, Maurice Moss and Roy standing together in pixel form.
A case like this is amazing and most "normal" people will not get it but a geeky nerd will not have any problems giving you a smile.
This case is availible for the iPhone 3G, iPhone 3GS, iPhone 4 and iPhone 4S and also for the iPod Touch 4 generation.
With a case like this you Apple device is protected and will even look better then when you bought it.
Get your geek on with this IT Crowd iPhone and iPod Touch case.