Jack Skellington Slippers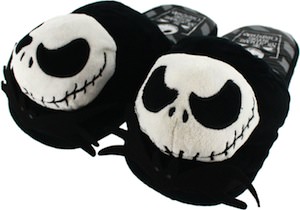 A true Nightmare Before Christmas fan hates cold feet and to solve that they where slippers around the house.
And now you as true fan can wear Jack Skellington slippers.
These slippers are mainly black and have a picture from the Nightmare Before Christmas on the foot bed and Jack's face on the front.
These slippers comes in a range of adult sizes so that they fit your feet perfectly.
Get warm feet by wearing these The Nightmare Before Christmas Jack Skellington Slippers.