Jaws Movie Poster iPhone 4S Case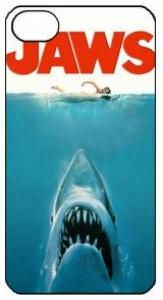 The terrifying motion picture, from the terrifying No,1 best seller. JAWS!!!
If you are a Jaws lover or a shark lover then check out this iPhone 4 and 4S case, with the original movie poster as the image on the case.
Awsome eerie detail of the shark Jaws about to pounce on a swimmer aswell as the red lettering of "JAWS".
Custom made for the iPhone 4 and the iPhone 4S, a hard case that will help protect from scratches and bumps…and maybe even shark bites.
Access to all ports and buttons while hard case is on.
Get a closer look at the Jaws Movie Poster iPhone Case.