Jaws The Shark T-Shirt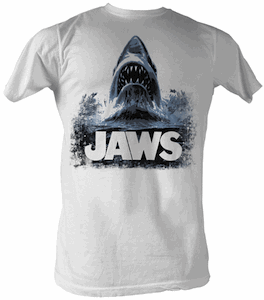 We all know about the big white shark from the Jaws movies.
And when we see a poster, t-shirt or something else related to Jaws we most time see the shark still under water but not this time.
On this t-shirt you see the sea and just below the surface it says "Jaws" in big letters and just above the surface you find the Shark ready to take a bite.
This amazing t-shirt is great for shark week and any other day that you like to show of a shark.
It comes in a wide range of adult sizes from Small to 2XL.
So get ready to go fishing and wearing this Jaws The Shark T-Shirt.