Katniss Everdeen Barbie Doll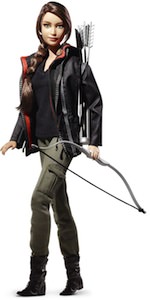 This Barbie doll is not the useall doll with perfect dress and looks.
Not this Barbie is Katniss Everdeen the main character from the Hunger Games books and movies.
Katniss is just like we know her from the movie compleet with bow and of course her Mockingjay pin.
Even the clothes she wears are just like in the Hunger Games movie.
If you like the Hunger Games and Barbies then you just need to get this The Hunger Games Katniss Everdeen Barbie Doll.
Check out other The Hunger Games Merchandise at THLOG.COM: