Little Mermaid Edible Cake Topper Image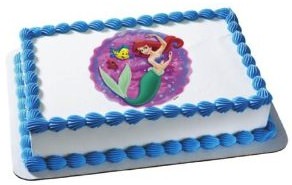 Bake you own The Little Mermaid birthday cake with this edible cake image.
You can place the image on a standard store bought cake or a cake that you bake yourself.
And you can go crazzy if you want a round cake or a square cake no problem make the cake you want and just put the image on it.
The image of Ariel is made from sugar and perfectly safe to eat.
The image shows Princess Ariel still as a mermaid and her best friend Flounder.
So if an Ariel cake is a must then check out this The Little Mermaid Ariel And Flounder Edible Cake Topper Image.