Looney Tunes Tasmanian Devil USB Flash Drive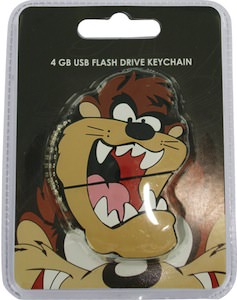 The Tasmanian Devil is one of those cartoon character you love and hate.
And now you can have a key chain / flash drive of Taz our favorite Tasmanian Devil from the Looney Tunes cartoons.
This flash drive offers 4GB of storage and can be used on PC's and Mac's.
With boring flash drives all over the place this one of Taz looks fun and different.
And of course you can use this drive to store your pictures, music, documtents and homework on it.
It's great for school, the office and fun.
Come check out this Looney Tunes Tasmanian Devil Flash Drive / Key Chain.