Merida Doll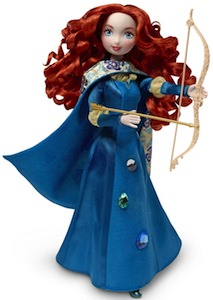 There we have Merida the main character of the movie Brave.
This Pixar / Disney movie brings this new character to THLOG.
And this doll of Merida has all the typical features that you know of Merida. Like her blue dress, red hair and her bow and arrow.
The doll even has a reversable cape and special gems to decorate her. And with Merida's hair you need a comb to so there is one of those to.
This Brave doll is made by Mattel and that means a quality officially licenced product that will be ready to play with for hours and hours.
Come have a closer look at this Brave Merida Doll.