Mickey Mouse 52 Inch Airwalker Balloon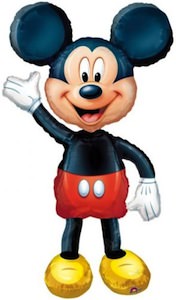 What would be more fun that having Mickey Mouse coming to your party.
OK the real Mickey is kinda busy in the Disney parks but we found the next best thing.
This is a balloon of Mickey Mouse and this balloon is 52 inch tall and as it is an airwalker balloon Mickey can actually be part of your party because of little weights in his feet he will stand on the floor and be part of the party.
Of course Mickey does not come inflated so you will have to get your own helium tank or take it to a place that sells balloons.
So lets get that party start and invite the Mickey Mouse Jumbo Airwalker Balloon.