Rainbow Dash Sleeping Poster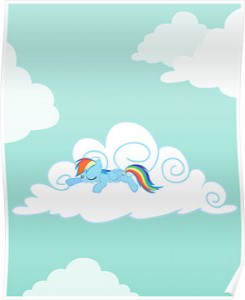 Even the great Rainbow Dash needs a little nap once and a while.
This is a really nice poster that features Rainbow Dash from the animated series My Little Pony, you can find her up in the sky taking a pony nap on a big fluffy cloud.
Beautiful colors that are very vibrant bringing out the rainbow colored mane and tail, this is a high quality print that you can get on three different sizes of posters, Small: 16.4 inches x 20.6 inches, Medium: 23.4 inches x 29.3 inches, Large: 33.2 inches x 41.5 inches.