Ralph Wiggum Go Banana T-Shirt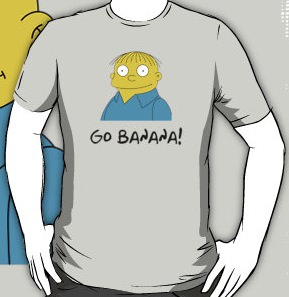 Fans of The Simpsons all know Ralph Wiggum aka Ralphy the funny but no so smart kid that is in school with Lisa and Bart.
And now you can have a fun t-shirt with a picture of Ralphy and the words "Go Banana!".
This Simpsons t-shirt comes in 21 fun colors and is availible in different styles for kids and adults in a range of sizes.
And the shirts are made by American Apereal so made in the USA.
So time to get people smiling when you just wear this The Simpsons Ralphy Go Banana T-Shirt.