Sons Of Anarchy Stars And Stripes Towel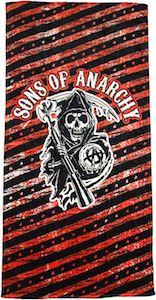 We all need a towel to dry ourselfs after a swim or shower but why have a boring one when you can have one based on Sons of Anarchy.
This cotton towel is 60 x 30 inch and that is plenty big for the beach or just at home.
The towel has red and black bars with stars on them and in the middle it says "Sons of Anarchy" and it has the reaper logo.
So if Sons on Anarchy is something you like then this could be the perfect replacement of your boring towel.
Come and check this Sons Of Anarchy Reaper Stars Stripes Towel.