Sons Of Anarchy Table Lamp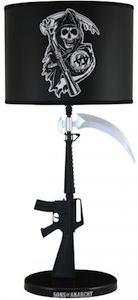 A true Sons of Anarchy fan will love this table lamp.
This lamp stands two feet tall and it all starts with a black base that has Sons Of Anarchy written on it. Then there is a M16 machine gun that holds up the black shade and that has the famous reaper logo on it.
As you can believe you have to be a fan of SOA to like this product but if you are then come check out this Sons of Anarchy Reaper Table Lamp.